Dog behaviour training in Shrewsbury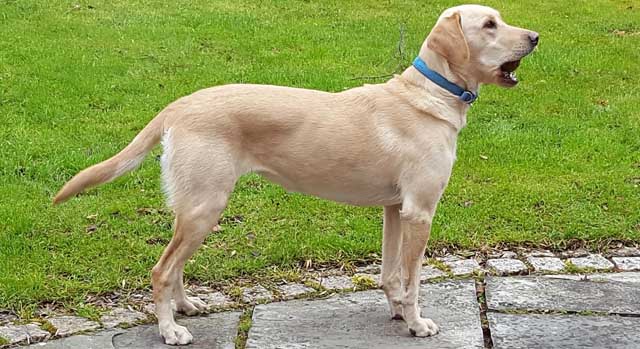 If you're looking for dog behaviour training in Shrewsbury, then Mort Smith Dog Training can help!
Whether it's a boisterous puppy who ignores commands or a dog you're struggling to walk nicely on the lead. Our training sessions will help you to change this behaviour and understand it.
Dog behaviour training sessions
Owning a dog should be a rewarding experience. Granted it can be pretty crazy at times but once you have built a bond, they become one of the family. However, if your dog's behaviour is impacting everyday life – it's important to understand the reason in order to change it.
All our dog sessions are based on a programme which I have created from skills based on 25 years on the police dog section and 13 years one-to-one training since retiring from the police in 2006. So, if your dog is displaying some unruly behaviour, I'll have seen it before! I will also know how to counter it.
Sessions are tailored to the needs of your dog and are one-to-one so you and your dog benefit from fully bespoke training.
Dog training in Shrewsbury
Our dog training sessions are one-to-one and take place in an environment where you and your dog feel comfortable. That can be in your home, at a park or your favourite walking spot.
This also means that I come to you which makes your life easier, as you don't have to travel with your dog. Being based in North Shropshire, I can conveniently travel to clients who are based in a 50-mile radius. I have many clients in Wrexham, Telford and further afield.
Training sessions can address; obedience, separation anxiety, aggression, recall, walking on the lead, over-excitement and any specific behavioural issues that have been highlighted.
Puppy training in Shrewsbury
Our puppy training sessions are also one-to-one and take place in a familiar environment. Training is focused on behavioural issues specifically associated with puppies and any behaviour that has become an issue.
Again, I am happy to travel to clients who don't live directly in Shrewsbury. I have worked with clients based in Oswestry, Whitchurch, Market Drayton, Newport, Bridgnorth, Ludlow, Church Stretton, Welshpool and Chester.
Training sessions will cover; house training, walking nicely, being left alone, over-excitement, mouthing, recall and communication as well as any specific behaviour issues.
Choose an expert
Along with improving the behaviour of your dog, we also improve the relationship between you and your dog. Through involving you with the training, I am ensuring that your dog responds to you once I leave.
Through my 35 years of experience in dog training and working with dogs for specialist training in the police – it's safe to say I'm an expert! Of course, every dog is different, and some will need more work than others. But having worked with around 1500 pet dogs since retiring from the police dog section, I am confident in taking on any behavioural issues.
If you live in or near Shrewsbury and would like to know more about our expert dog training services, please call us on 07821 192 827 or visit our website here to find out more.