Meet the Shrewsbury Dog Trainer…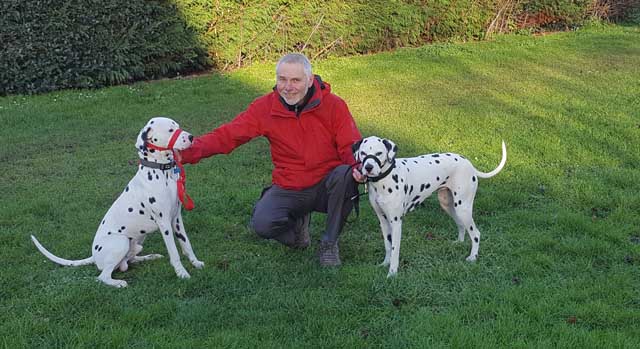 If you're struggling to train your puppy or need help with an anxious dog and are based in or near Shropshire; look no further because Mort Smith Dog Training can help.
Experienced and committed
I've been working professionally in dog training and behaviour for over 35 years. In that time, I have developed a wealth of experience in working with all types of dog breeds and sizes.
Before retiring, I spent 25 years working as a police dog handler and trainer. During that time I also ran regular dog training classes for pet dogs in Shrewsbury. This provided me with extensive professional experience in dog training through working with dogs for specialist operations such as drug detection.
Being based in Shrewsbury puts me in a handy distance of other local areas. I'm happy to travel within a 50-mile radius including Telford, Wrexham, Oswestry, Whitchurch, Market Drayton, Newport, Bridgnorth, Ludlow, Church Stretton, Welshpool, Chester, Stafford, Stoke, Newtown and Llangollen.
Training you to train your dog
This is my business motto because it's important that owners understand that my training includes them as much as it does their dog! If you've become overwhelmed by your dog's behaviour and you're after a quick fix – it's not that simple. But most of my training can be included in your daily dog routine and does not have to take a lot of extra time; you just change what you do.
My dog training and behaviour sessions are tailored to overcome specific issues. But learning why your dog is behaving that way and why you should be involved in the training is an important step. It's my job to teach owners how to implement training and understand their dog's behaviour.
Once I have introduced the owner to the techniques, it is up to them to put them into practise day to day with their dog. When the dog learns and experiences the training through the owner; they will be more likely to respond to them. It also helps to creat a positive, lasting bond between you and your dog. 
Why choose Mort Smith Dog Training?
Over 35 years of experience.
One-to-one training at your home.
Member of the British Institute of Professional Dog Trainers.
Has worked with approximately 1500 dogs.
Fully insured.
These are just some of the reasons why you should choose my expertise to train your dog. But the main reason I can give you is that; I'm passionate about what I do and passing on my experience to you.
Don't be afraid to give me a call to discuss your concerns and needs – I tailor all of my training to each client's specific issue.
If you would like to discuss how Mort Smith Dog Training can help you with training your dog, please call 07821 192 827.